Catherine is a life long local Tofino surfer who loves to spend most of her time in the ocean. She is a talented surfer with a beautiful style and is an incredible ambassador for her hometown of Tofino, B.C. Catherine has taken the Woman's National Surf title many times, and makes the podium in every long-distance paddleboard race and surf contest she enters. She recently was awarded the Canadian SUP Surf Women's Champion award at the 2nd Annual Tofino Paddle Surf Qualifier for the World SUP Games and is heading to Fiji this fall to represent Canada at the World SUP Games. Motivated by her love for the ocean and beaches, the fresh air and the rainforest, Catherine loves to share her stoke and appreciation for the planet.
As a Paddle Canada and ISA SUP Instructor she teaches paddleboarding full time through her business Tofino Paddle Surf, running the daily instructional tours for beginners, to the private SUPsurf and surf lessons and taking the kids groups in the ocean. Catherine teaches the Paddle Canada Courses, including the Basic Flatwater, Advanced Flatwater, Coastal Surf, Navigational/touring and Instructor Courses for surf and SUP through her business. She plans on taking her new SUP Surf Skills Course she recently developed, for paddling knowledge and practice on flat water transferable to paddling in the surf, to all parts of Canada! When she is not teaching surfing with her brother's Sepp and Raph or paddleboarding she will be found traveling and surfing with her kids.  Catherine is currently developing outdoor fitness programs to incorporate into her business and is also actively teaching and coaching surfing at beginner through intermediate levels. With her vast experience growing up on the ocean and surfing, Catherine brings a wealth of local knowledge to all her courses.
Catherine is sponsored by ROXY, Werner Paddles, Live to Surf, and Aftanas Surfboards.  Follow Catherine's adventures on her Facebook blog and Instagram.
Norm is a sponsored Canadian paddleboard athlete and racer with Boardworks Surf Canada, a Quiksilver Waterman Ambassador and Paddle Canada SUP Instructor Trainer. Based in Squamish, B.C. Norm runs Mountain Surf Adventures which focuses on coastal expeditions and standup paddleboard instruction. Norm has also been active in the conservation and protection of the Great Bear Rainforest and the British Columbia coastline through his Standup4Greatbear Organization. Zak Cross
Bio coming soon… Mike Darbyshire
Mike has been outside and on the water for most of his life. Surfing and kayaking led him into the Stand Up Paddleboard world and he hasn't looked back. In a few short years SUP has given Mike opportunities to travel around North America, explore new places in his own backyard and help develop the Paddle Canada SUP Instructional Program. Mike is an excellent instructor, talented paddler and is stoked on all disciplines of SUP including surf, touring, racing and river; and is excited to share it with whoever he can! He run's the SUP program. at Deep Cove Kayak and is sponsored by Starboard, Kokatat andWerner Paddles. Neil Callaghan
Bio coming soon…
Marcel Gasparovic
"Sometimes I am still scared, but I am no longer afraid. So get out there!"
The country of Slovakia sent this individual to play in the BC'c outdoors about 6 years ago, and he's doing a darn good job at it!
Marcel finished his Master degree back in 2009 at Faculty of Physical Education and Sport in Slovakia, his home country.  He also got a Bachelor degree as a Fitness trainer at the same University, worked at gym and created fitness programs for athletes.  Fluent in English, German, Polish language, he is an easy going professional in his game. Sports have been the biggest passion for the Slovak since he was a little from.  Mother nature, outdoor activities, especially extreme sports, are Marcel's biggest passions.
As a ski instructor and ski coach, not only has a degree in Extreme skiing- freestyle & free ride – but is also an experience SUP coach and certified Paddle Canada Instructor.
Marcel spent over 10 years on the mountains in Europe and Whistler, BC, teaching and coaching adults and kids.  He knows first hand how, skiing, surfing, paddle boarding and being outdoors can increase the quality of human's life tenfold. It's not only for adrenaline hunters either.
After 2 snowy seasons at the Whistler-Blackcomb mountains Marcel moved to Tofino, the surf and paddle paradise of Canada.  He immediately fell in love with the ocean and with all it has to offer. The wilderness, unpredictable behaviour of the Pacific, and the size and the power of the sea became a new challenge for this kid. Marcel loves the challenges that nature has to offer.
Both in 2014 and 2015, Marcel participated and did very well at the Canadian SUP SURF Invitational, but he is a soul surfer at heart.  His playground is the ocean: with no limits and rules but the ones the ocean and nature leaves us to appreciate.  Marcel has been a valued member of the Tofino Paddle Surf Team since 2012 and he found his 2nd home here, on the west coast of Vancouver Island. He's became an accomplished SUP guide and his knowledge of the local waters are beneficial on every tour and lesson he guides.
Marco Procopio
Marco loves to move. He's done any and every kind of sport since he was able to walk. After finishing his Bachelor Degree in Sport Science in his home country of Italy, and working as a personal trainer for a few years, he found true inspiration in the power of the waves, the ocean, the wind; in nature. Teaching windsurfing and kitesurfing for a few years made him realize that the power of the waves and the ocean was calling him so strongly, that he picked and moved to Australia for 4 years.  His journey later brought him to the west coast of Vancouver Island.  He calls Tofino home and has been surfing everyday for the past 5 years.
When Standup Paddleboarding reached our coast and he began guiding at Tofino Paddle Surf, he fell in love with the sport. The variety of conditions in which you can paddle board fascinated Marco.  Since the first time he tried SUP, Marco wanted to share his passion for the water with others so the rest of the world can experience such beauty. Marco surfs when the waves are good for his shortboard and he paddles when the conditions are good for his paddleboard.
Marco is an elite athlete with podium finishes in many SUP races and the Canadian SUP Surf Qualifying event every year in Tofino.
Marco is an excellent, patient, and knowledgeable teacher.  He loves to teach and focuses on fun, loving life and the ocean, and leads by example with huge respect for nature.  What excites him most is what you will never learn on land, but only out on the sea.
Pascale Fromant
Born and raised in Tofino, Pascale is very passionate about spending time in and near the ocean. Whether she's surfing, paddleboarding, teaching or walking on the beach, she is drawn to the healing quality of the ocean and the many outdoor activities accessible on the coast. She finds Yoga restores balance and is very grateful that it is part of her daily life. As the owner of Tofino's yoga studio, Coastal Bliss, and co-owner of Live To Surf she is delighted to bring both of these activities together. Pascale is a certified Yoga Instructor, Surf Instructor, Ayurvedic Wellness Counselor and recently certified in Traditional Thai Massage and Tofino Paddle Surf trained SUP instructor. "Yoga is both joyous and challenging which continuously creates balance in my life. Adding the element of practicing on the water is very exciting and I look forward to sharing SUP yoga with you! I love the possibilities of exploration that paddleboarding opens up." For more info http://coastalblissyoga.com/instructors/pascale
Dede Monette Dede has been practicing and teaching various styles of Yoga for the past 15 years. She received her 250 hours Yoga Teacher Certification from Moksana Yoga Center in Victoria, BC in 2008. Her teachings focus in Classical Hatha Yoga, Vinyasa Flow, Kids and Ageless +50 Yoga. Dede is currently working with Coastal Bliss Yoga Studio in her hometown of Tofino, BC. She also offers Yoga Retreats at The Tofino Botanical Gardens twice yearly teaches and community classes through the district of Tofino, BC. Dede is also a Certified Herbalist and a full time Mama of two young and bright children.   Kristy Wright Schell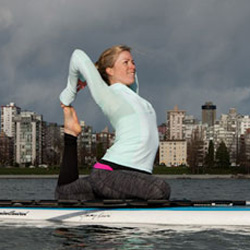 Kristy grew up in Ontario spending time on the lakes and water ways of Muskoka wakeboarding. After moving to Whistler in 2002 the mountain lifestyle industry opened many doors in sales & marketing, but with office work came stress and deadlines, to help manage this lifestyle Kristy started practicing yoga. Through her yoga practice and teaching Snowboard and horseback riding teaching Yoga was a natural transition. Receiving her 200hr Foundation Yoga teaching certification with Yyoga in Vancouver, BC Canada she has since trained with Baron Baptiste and teaches Power Yoga among other styles. After paddle boarding in Hawaii she began to look at the paddle board as a moving mat to not only expand her practice but work stabilizing muscles to refine her practice on the mat. Through starting SUP Vancouver, Kristy has continued to grow the yoga practice on her board and looks forward to teaching others the joy and fun that comes with challenging your balance and your body. SUP Yoga Vancouver owner/instructor and certified Yoga Teacher who collaborates with Catherine and Tofino Paddle Surf to offer a multitude of SUP, surf, yoga and sup yoga programs and retreats in Tofino throughout the year.